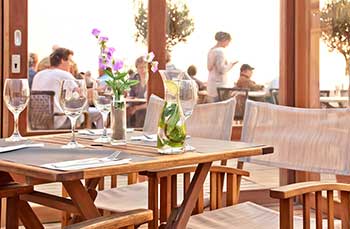 Stay focused on serving the needs of your customers.  Let it be OUR job to take care of all of your nightclub, bar, hotel, pizza shop, sub shop, take out and dine in restaurant insurance needs.
Fisher Insurance will provide you with the coverage needed to continue to serve your customers. You can count on our knowledgeable and experienced staff to help with your hospitality insurance needs; explain the insurance you must have, the coverage you should have, and additional options.  Our staff has been providing exceptional insurance for restaurants, bars, nightclubs, and more for over 20 years
Our menu of products and available coverages include:
Assault & Battery
Burglary / Theft
Business Income Interruption
Business Owners Policy
Business Personal Property & Contents
Coatcheck / Checkroom Theft
Commercial Auto / Valet Liability
Cyber Liability
Disability
Employment Practices Liability
Equipment Breakdown
Flood
Food Spoilage
Food Delivery
General Liability
Hired Auto & Non-Owned Auto
Liquor Liability
Liquor Tax Bonds
Personal Injury & Bodily Injury Liability
Property Damage
Umbrella / Excess Liability
Vandalism
Workers Compensation and Employers Liabilty
Financial Stability: Issuing policies from A.M Best "A" Rated Insurance Carriers, with the financial strength to provide stable, consistent and competitive pricing.