Fisher Insurance, a full service property & casualty agency based in Auburn, Massachusetts near Worcester, is dedicated to giving our customers the service that they expect and deserve.  We are an independent agency, which means we are able to present you with options for all your personal, commercial and trucking insurance needs. Our agency is able to present your policies to multiple companies. This gives you choices and potentially saves you a significant amount of money.
Experience our Outstanding Customer Service
At Fisher Insurance, we answer our phones when you call.  You shouldn't have to leave voicemail after voicemail before getting someone on the phone to help. Every time you call us, you can speak with a real, live human being that will be able to answer your questions. Our goal is to create a relationship with you that spans decades, not months.
Although finding the right policy to fit your needs isn't easy, our staff is well versed about hundreds of different policy types. In addition to homeowner's and auto insurance, we strive to be the one-stop shop for all of your insurance needs. Our commercial department is just as large as our personal policy department. We want to be your insurance choice, regardless of what your needs are.
We specialize in Transportation and Trucking Insurance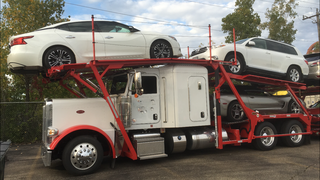 One of our specialties is coverage for trucking and transportation companies. Our ownership has over 20 years experience in this business. We know you need quick turnaround times and someone that can answer your questions right away. Stop losing freight due to the fact that your agent is too busy to get you that certificate you need. Indeed, you have the ability to create a certificate, 24 hours a day, from you computer, tablet or cell phone.
The extensive experience we have in this market helps us to be able to offer a variety of personal, commercial and trucking insurance options. Our relationships with companies that offer these types of policies allow us to give many more options to you than your typical agency. We may even be able to save you thousands on your trucking insurance policies.
Insurance is expensive. We get it. You deserve to be treated like a valued customer and not just a number on a spreadsheet. Let us show you how dedicated we are to servicing the needs of our customers. Call 888-871-2405 today for a free quote and experience the difference first hand.